KAFFEE FORM: A UNIQUE CUP OF COFFEE MADE OF…COFFEE

An award–winning cup in your hands
The daily coffee experience changes. We all move towards a new more eco-friendly and sustainable world, so Coffee Island could do nothing less but embrace this new reality. Therefore, we brought to you the revolutionary reusable coffee cup Kaffee Form. Winner of the Reddot 2018 prize for its design at the New Materials category, Kaffee Form is now available in-store, ready to change the game in the market, because of its innovative material.
What is that?
Coffee. Yes, you read that right. This is a cup of coffee made of recycled coffee grounds and compressed with biopolymers. How it ends up to us? The coffee "cakes" are collected daily from the cafés in the local market of Berlin by the members of a local social group. They are involved in the collection of the coffee but also in this magical transformation: From coffee leftovers to a unique cup. In other words, they contribute both to the logistics and the processing of the coffee, as well.
The final stage?
The assembling and the packaging. Kaffee Form is not just a sustainable cup because of its material, but also because of the people that work on it in order to bring this special cup to your hands. It gives the opportunity to people with disabilities to test their skills and create something that can only have a positive impact on our planet.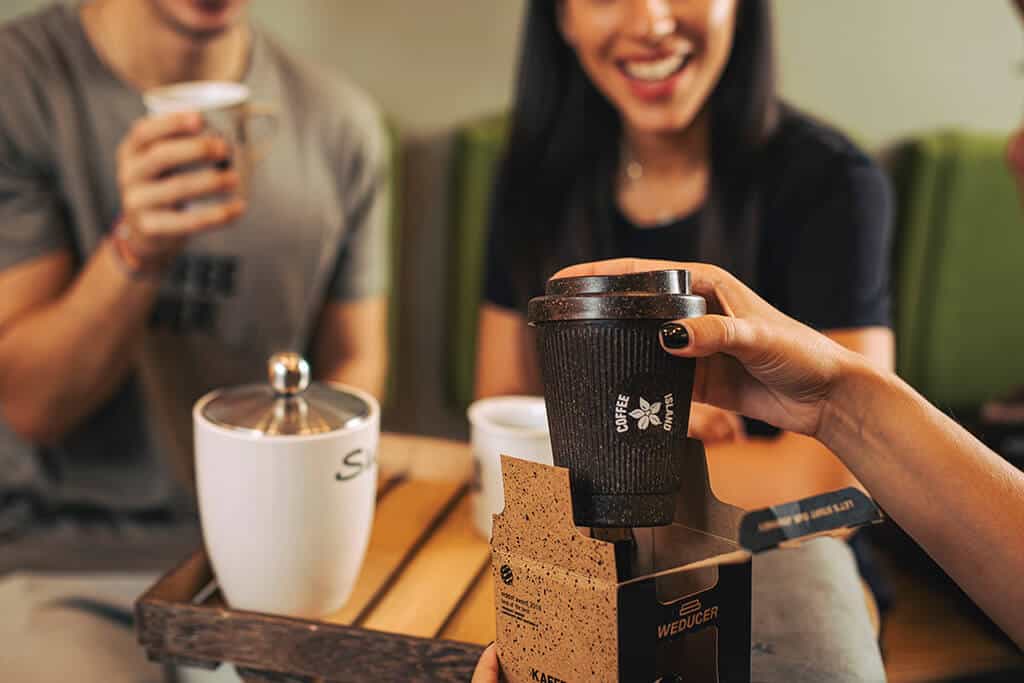 Why is it so unique?
Because its characteristics make it so. It is made from an innovative and sustainable material. Specifically, Kaffee Form is made from recycled coffee beans and renewable resources. The positive outcome? You have a 100% recyclable product that supports environmental protection and underlines our sustainability-driven philosophy. Overall, it is a typical example of the circular economy.
Environmental awareness & Innovative design
It is durable and light at the same time, so you can take it with you wherever and whenever you like. Kaffee Form is perfect for hot and cold drinks as well with a capacity of 300ml and… the most important? It smells like coffee!
A unique cup of coffee which is going to be your essential accessory for your favorite drink. Start living in an eco-friendly way, promote environmental awareness through your habits and join a different way of life.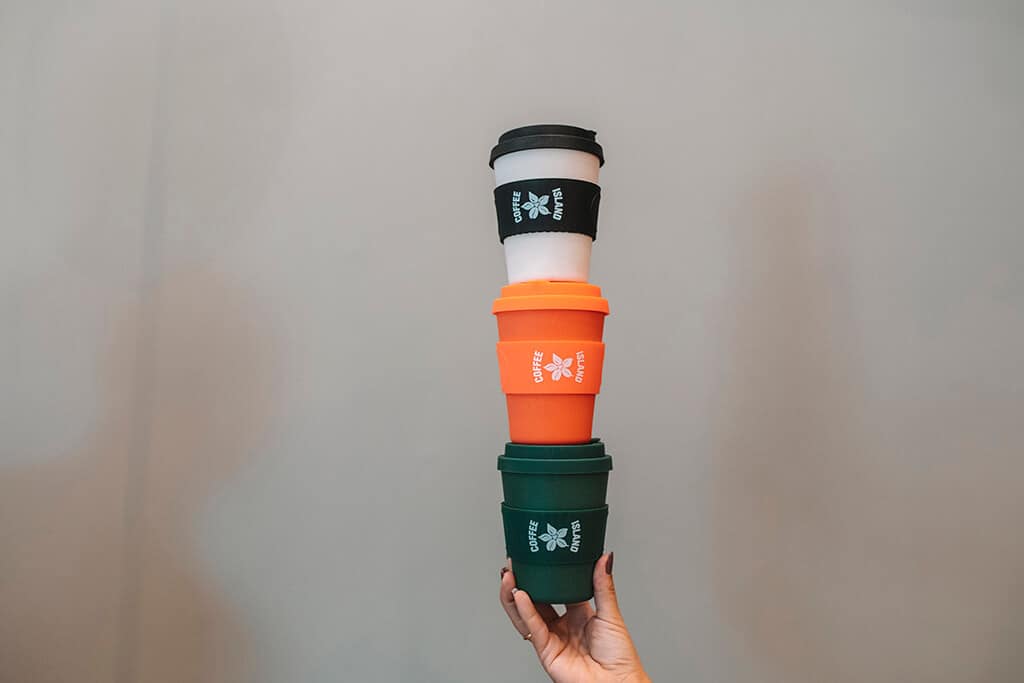 E-coffee cup in three colours
Your choices for an eco-friendly takeaway do not end here. We give you one more cup to enjoy your drink, in 3 unique colours: White, orange and green.
How more special?
They will become your favourite reusable cups! Made of bamboo fibers, various plant materials, and melamine, they stand out for their unparallel design and 3 three different colours for you to pick. The time has come for you to move away from plastic and carton cups for your daily coffee routine. Enjoy a hot or cold drink in our e-coffee cups, that have a capacity of 350 ml.
And don't forget…
Come discover the unique Kaffee Form cup in our store. Touch it, smell it and try to picture it as part of your daily life. Ask our barista to prepare your specialty drink in your new cup.
The time has come to make the world a better place. Join us!